In this, my 900th post (after the purge), I figured I'd talk about my top five favorite movies about music. This doesn't mean musicals, but rather movies that use music as the theme or plot of the film. What inspired this discussion was a movie I caught on TV as I was going to sleep, Almost Famous.

While there have been many, many films involving music through the years, there are some that stand above the rest. For me, most of these are more modern.



5. The Jacksons: An American Dream




Many people hated this TV movie, and I can understand why, especially with the current outlook on Michael Jacskon. And I realize the movie, while it did show some of the negative stuff that happened in their family life, was a puff piece of sorts at the same time. However, growing up on Michael Jackson music and considering him one of the greatest musical talents of all time, regardless of his personal life, I found the movie very entertaining. As I mentioned, it showed the struggles of the family and the rocky relationship with their father. It showed the mature world these innocent kids were introduced to and how that changed them to their core. It showed a lot about Michael that could have lent to the changes he brought upon himself in later years. For me it was a moving film.



4. Fame




I remember watching both the movie and the television series as a kid. Yeah, Fame had elements of a musical in it, but it wasn't a musical in the typical sense of the term. So I'll include it here. Much like Dangerous Minds was a few years ago, this movie was about the kids. Where in DM it was about kids left behind and written off being believed in, in Fame it was about gifted kids being believed in and nurtured to use their talents to achieve their dreams. There was drama, emotion, comedy, tons of talent and, of course, music. Sure, the movie was strongly centered on dancing, but being at a performance arts school singing and playing instruments was an integral part of the film as well. It was just a strong film with a lot of diversity and meaning to it.



3. Almost Famous




The movie that inspired this post is one of the great classic films about the heart of music, specifically rock 'n' roll in this case. The story centers around a 15 year old kid who writes an article on a band, then gets hired by Rolling Stone to tour with and do a piece on Stillwater. Rolling Stone had no idea he was a kid, so this kid gets to experience a dream, and as a fan of Stillwater he gets to be close to his favorite band.

But unlike other films of this ilk, this one is about the heart of music, as I said before. It's about the truth at the heart of the band, meaning the positive and the negative. It shows the trials they face and the joys they share. It also shows the growth of this young innocent kid who is thrust into the world of sex, drugs and rock 'n' roll. And he comes out of it ok. It's a moving story, and one of the best music films there's been to be sure.



2. 8 Mile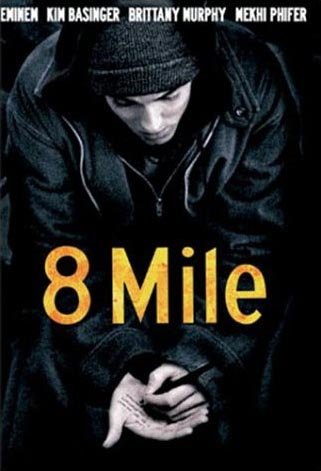 Whether you like rap or not, and whether you like Eminem or not, there's no denying his acting chops in this film, or the cultural impact of this film. It's a story about a young white kid trying to make it in the world of hip-hop, but it's more than that also. It displays the struggles of his family life, the reality of his job and the violence that the genre breeds. But more than all of that it shows the heart and passion of a guy who loves the art of rap and is able to overcome diversity and rise on his own. It's a well written, well cast drama about a genre of music that is and was the voice of the street. And it's just a great movie.

1. The Five Heartbeats


This one isn't as well known as the others, but this is personally one of my favorites. I have seen it many times over the years, and it inspired me the very first time I saw it. It follows the growth and destruction of a struggling R&B group during the movement of motown. They're a Temptations like group if you're not familiar, each with greatly unique personalities. You have the two brothers, one responsible the other not so much, the cocky drug addict, the choir boy and the laid back quiet guy. The group goes through ups and downs, break ups and reunions and so much more. It shows the seedy underbelly of the music industry at the time as well as what's most important, which is the music and the relationships made along the way.

A few honorable mentions would be Saturday Night Fever, The Blues Brothers, High Fidelity, Pump Up the Volume, Sister Act 2 (yeah, I said it), Breakin' 2: Electric Bugaloo (one of my favorites I forgot about), The Doors, La Bamba, Hustle & Flow, August Rush and Rock Star. All great films about music.

These are my favorites. What are yours?